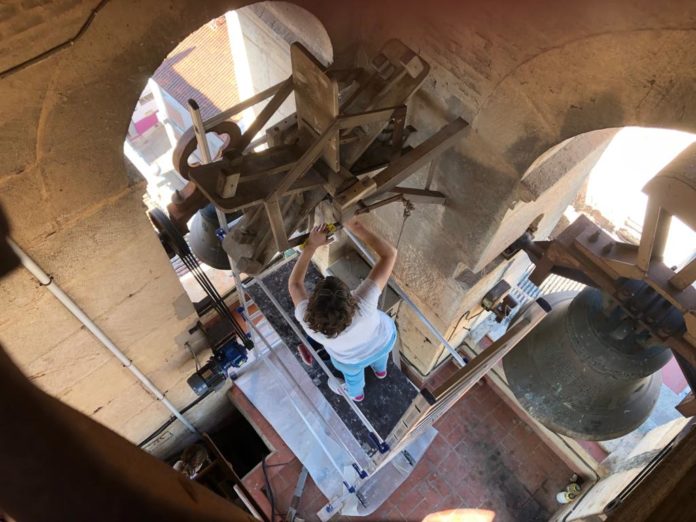 The titular professor and researcher at the University Institute of Heritage Restoration (IRP), Vicent Guerola, together with Eva Gomis Vendrell, from the specialized carpentry workshop in art restoration La Morera, and Arnau Salom Viudes, a member of the youth group of the parish, have worked together on the recovery of this important piece of cultural heritage.
The matraca, also known as "barjola", is used as an alternative to bell ringing when they are silenced during Holy Week as a sign of mourning. It is a percussion instrument from the idiophone family, which in this case had remained silent for several decades until a group of neighbors, sensitized to the recovery of this heritage element, decided to promote its restoration.
The matraca in the bell tower of the church of Carcaixent was built after the Civil War, supposedly to replace an earlier one. The piece is built with high-quality noble woods, including mulberry and walnut, and is not mechanized, so the sound is manually produced by pulling a rope from inside the bell tower.
The restoration work consisted of cleaning, greasing, and gluing the weakest joints of the structure to restore its original strident sound. After obtaining the authorization of the current parish priest, José Miguel Peris, to restore the bell tower matraca, the commitment of the Brotherhood of the Holy Sepulcher of Carcaixent has also been obtained, through its president, Carmina Vidal, for the members of the brotherhood to be responsible for ringing it on the designated dates.
Thanks to the restoration work led by Vicent Guerola and his team, the matraca of the bell tower of the parish of the Assumption of Carcaixent will sound again in the next Holy Week, returning an important piece of their cultural and religious heritage to the local community.